Restored Seth Thomas Antique Chime 102 -1914 Wall Clock In Ribbon Mahogany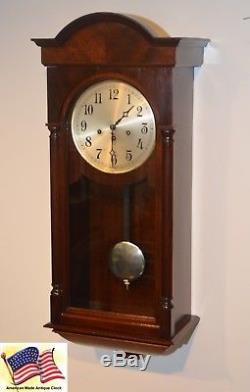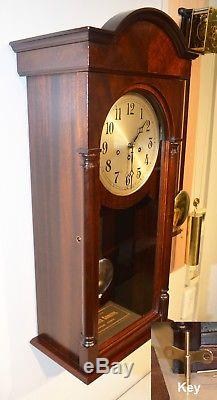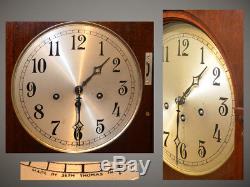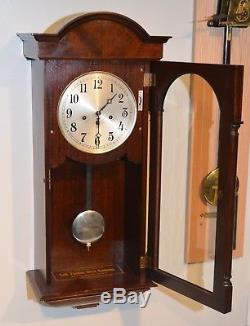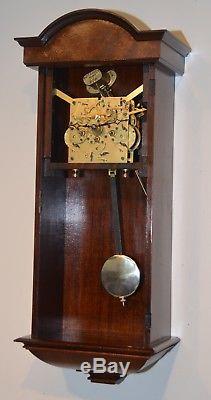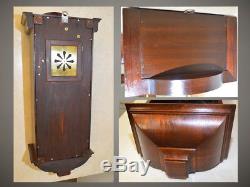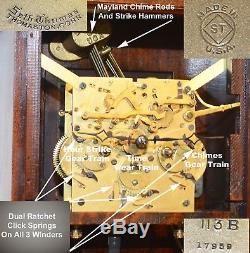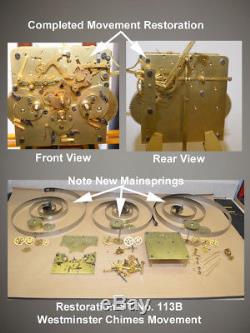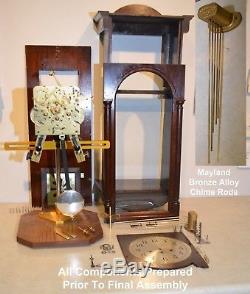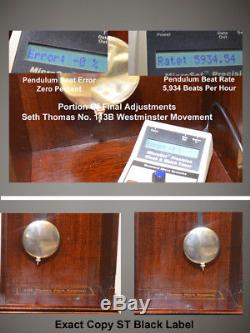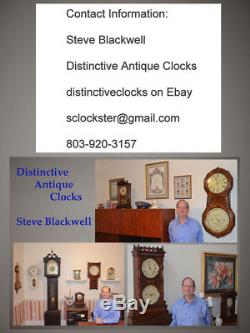 E COMMERCE AUDIO PLAYER SOUND FILE LINKS OF THE CHIME CLOCK NUMBER 102 - 1914 ARE ATTACHED AT THE START OF THIS LISTING LISTEN, REVIEW, AND ENJOY. FOR ONES PERSONAL USE AND ENJOYMENT, SPECIAL COLLECTION.
IS THE STATELY AND ELEGANT SETH THOMAS WALL MOUNTED CHIME CLOCK NUMBER 102 1914. THE CHIME 102 IS VERY RARE IN THE MARKET PLACE BECAUSE SO FEW WERE PRODUCED AND THOSE ARE CLOSELY HELD IN PRIVATE COLLECTIONS. IN FACT THIS IS THE ONLY CHIME CLOCK 102 TO COME AVAILABLE IN MANY MONTHS, AT LEAST THAT I HAVE SEEN.
IT IS DEFINITELY AN HEIRLOOM/COLLECTOR/INVESTMENT GRADE WALL-HUNG WESTMINSTER ANTIQUE CLOCK. THE CHIME CLOCK NUMBER 102 IS LISTED IN NOTED AUTHORITY TRAN DUY LYS SETH THOMAS CLOCKS AND MOVEMENTS THIRD EDITION VOLUME 1 PAGE 145.
RECENTLY I COMPLETED A FULL RESTORATION OF THE CHIME 102 AND NOW OFFER IT FOR YOUR CONSIDERATION. PLEASE REVIEW MY LISTING AND THE HIGH RESOLUTION SUPERSIZE PHOTOS WITH INSETS IN ORDER TO OBTAIN A MORE COMPLETE UNDERSTANDING OF THIS SUPERB OFFERING. AS ALWAYS, MY PRIMARY OBJECTIVE IS ALWAYS TO EXCEED YOUR EXPECTATIONS! NOTICE THE PRESENTATION AND ATTRACTION TO THE CHIME 102 AS DISPLAYED IN SUPERSIZE PHOTOS 1, 2 AND 3. THE CLEAN AND INTERESTING CABINET DESIGN AND PRESENTATION IS TRULY APPEALING, AND IS ENHANCED BY THE SLOW, STEADY, AND WIDE PENDULUM ARC CREATED BY THE NICKEL PLATED BOB, AS VIEWED THROUGH THE VERTICAL WAVY GLASS PANE IN THE FRONT DOOR.
THE CHIME 102 IS FACTORY EQUIPPED WITH AN 8 INCH SILVERED DIAL DISPLAYING A BLACK ETCHED CHAPTER RING WITH ETCHED ARABIC NUMERALS. COMPLEMENTING THE DIAL ARE SETHS ORIGINAL SIGNATURE SETH THOMAS FULL DIAMOND PATTERN CUT BLUED STEEL HANDS.
PERHAPS THE BEST PART OF THE CHIME 102 STORY IS THE CLOCK MOVEMENT ITSELF THE NUMBER 113B THE HIGHEST GRADE MOVEMENT SETH THOMAS EVER PRODUCED. CLOSE-IN PHOTOS OF THE SETH 113 B ARE INCLUDED IN THE PORTFOLIO FOR YOUR REVIEW. THE SECOND BEST PART OF THE STORY IS SOUND QUALITY THE PERFECTLY TUNED HEAVY MAYLAND BRONZE ALLOY CHIME RODS, COUPLED WITH THE MECHANICAL ACCURACY OF THE 113B MOVEMENT, PRODUCE INCREDIBLE RESULTS. TAKE A LISTEN VIA THE ATTACHED SOUND FILES TURN THE VOLUME UP AND ENJOY. I JUST COMPLETED A FULL RESTORATION OF THE CHIME CLOCK NUMBER 102 1914. IT IS NOW READY TO BE PLACED IN YOUR HOME OR ANY VENUE OF YOUR CHOOSING. THE CHIME 102 CABINET FINISH WAS AMALGAMATED WITH AMBER SHELLAC AND HAND RUBBED TO PRODUCE A SATIN FINISH THAT BRINGS OUT THE TRUE BEAUTY OF THE RIBBON AND GRAINED MAHOGANY. I RUBBED THE ENTIRE CABINET WITH PRE CONDITIONING COMPOUNDS, FOLLOWED BY A LIGHT 0000 STEEL WOOL BUFFING, FOLLOWED BY THE AMALGAMATION AND SUCCESSIVE RUBBING PROCESS. WHEN DISPLAYED ON A WALL OR SIMILAR VENUE, THE CHIME 102 BECOMES A TRUE FOCAL POINT AND IS ALWAYS NOTICED FOR ITS OUTSTANDING PRESENTATION APPEAL. BY ALL MEANS TAKE A CLOSE LOOK AND ENJOY THE VIEWING. THE SETH CHIME CLOCK NUMBER 102 WILL BE A WISE FIND FOR THE FORTUNATE FUTURE OWNER, AND CAN BE APPROPRIATELY DISPLAYED IN A FEATURED AREA OF THE HOME. CABINET, HARDWARE AND EQUIPMENT ADORNMENTS INCLUDE. FULL TOP PEDIMENT CONSISTING OF COMPOUND MOULDINGS ON FRONT AND SIDES. UPPER CROWN ON THE PEDIMENT WITH A WIDE-RADIUS DORIC FLAIR.
MID-LENGTH DROP ON THE CABINET DESIGNED TO FACILITATE PLACEMENT ON WALLS OF VIRTIALLY ANY HEIGHT. HIGHEST QUALITY CABINET DOOR WITH CORNER MORTISE CONSTRUCTION AND THE ORIGINAL MAHOGANY DOOR PULL KNOB. THE DIAL/DOOR GLASS IS THE ORIGINAL WAVY GLASS. WITH THE NATURALLY OCCURING MINUTE PITS AND DIMPLES CREATED BY THE MANUFACTURING PROCESS OF THE DAY. A PIT OR DIMPLE CAN BE SEEN IF ONE LOOKS HARD A TESTAMENT TO TRUE ROLLED GLASS.
DOOR WITH BRASS LATCH AND OLD GLASS TYPICAL OF THE PERIOD. WHEN VIEWED CLOSE UP THE OLD GLASS HAS THE SUBTLE RIPPLES THAT AUTHENTICATE ITS AGE. FULL LOWER PEDIMENT CONSISTING OF COMPLEX MOULDINGS ON FRONT AND SIDES, FORMING A PLEASING GEOMETRIC CONVEX RADIUS BOTTOM PATTERN.
NICKEL PLATED PENDULUM BOB AND BLACK PENDULUM ROD. COMPLETELY RESTORED SETH THOMAS NUMBER 113B HIGHEST GRADE MOVEMENT WITH THICK 19MM PLATES, CUT PINIONS, LARGE OIL CUP BUSHINGS AND BEEFY BRASS MAINSPRING BARRELS.
PLEASE REVIEW MY LISTING AND PHOTOS FOR MORE TECHNICAL DETAILS ON THE 113B MOVEMENT RESTORATION. THE CHIME 102 IS A PLEASURE TO VIEW, SHOW, AND ENJOY - YOU WILL LOVE THIS CLOCK!!!
I KNOW I DO I ADMIT I LOVE THEM ALL!! I ASK THAT YOU ALLOW THE TEXT AND HIGH RESOLUTION SUPERSIZE. PICTURES TO SPEAK FOR THEMSELVES!!
ON THE DIAL THE QUARTER HOUR CHIMES WIND SHAFT IS LOCATED ABOVE THE NUMERAL 5, THE TIME WIND SHAFT IS LOCATED ABOVE NUMERAL 6, AND THE HOUR STRIKE WIND SHAFT IS ABOVE NUMERAL 7. THE TIME ADJUSTMENT FOR FASTER OR SLOWER IS ACCOMPLISHED VIA THE THUMB NUT AT THE BOTTOM OF THE PENDULUM ASSEMBLY. THE QUARTER HOUR WESTMINSTER CHIMES MAY BE SILENCED BY MOVING A LEVER LABELED C FOR CHIME AND S FOR SILENT. THE LEVER IS LOCATED ON THE UPPER RIGHT OF THE DIALS EDGE AND CAN BE VIEWED IN SUPERSIZE PHOTO NUMBER 4. THE QUARTER HOUR WESTMINSTER CHIME SEQUENCES ARE SOUNDED ON THE RICH, RESONANT AND PERFECTLY TUNED MAYLAND CHIME RODS, FOLLOWED BY THE HOUR COUNT ON MAYLAND CHIME ROD NUMBER FIVE, A DEEP YET MELLOW CATHEDRAL BELL SOUND WITH A LOVELY DECAY OF THE NOTE. THE RESONANCE IS DEEPER AND VERY PLEASING. BE SURE TO LISTEN VIA THE E COMMERCE PLAYER SOUND FILES. THE HIGH RESOLUTION SUPERSIZE PHOTOS ARE PROVICED FOR YOU TO SEE ALL DETAILS OF THE CLOCK. THE PHOTOS REALLY DO NOT FULLY SHOW HOW NICELY THIS SETH SHOWS OFF IT IS A BEAUTY!! THE CLOCK LOOKS EVEN BETTER WHEN VIEWED DIRECTLY THAN IN THE PHOTOS.
THE CHIME 102 IS WELL PRESERVED AND FULLY RESTORED IN EVERY WAY. I TAKE GREAT CARE TO INSURE THAT EACH DISTINCTIVE CLOCK I OFFER IS SUPERB IN ALL RESPECTS!! PLEASE REMEMBER TO HEAR THE CHIME 102 VIA THE ATTACHED SOUND FILES.
THE NOTES STRUCK FROM THIS PARTICULAR CATHEDRAL CHIME RODS BANK HAVE A WONDERFUL AND LINGERING DECAY. LISTEN AND YOU WILL HEAR WHAT I MEAN. THIS IS A LARGE SIZE WOOD CASE CABINET STYLE WALL CLOCK AN IDEAL SIZE FOR PLACING ON ANY WALL OR SIMILAR VENUE - PERFECT FOR A SPECIAL GIFT, FOR YOUR PERSONAL USE, OR AS AN ADDITION TO YOUR COLLECTION. MEASUREMENTS ARE 13 ½ W X 28 H X 7 ½ D. PLEASE OBSERVE THAT NEARLY HALF OF MY LISTING PORTFOLIO CONTAINS INFORMATION ABOUT THE MECHANICAL ASPECTS AND MOVEMENT RESTORATION OF THE CLOCK. YOU DESERVE, AND SHOULD EXPECT, A RESTORED ANTIQUE SETH OF THE HIGHEST QUALITY AND RELIABILITY. I STRIVE TO EXCEED YOUR EXPECTATIONS RATHER THAN SIMPLY SELL YOU AN ANTIQUE CLOCK. THE EIGHT DAY #113B HIGHEST GRADE SETH THOMAS WESTMINSTER MOVEMENT, DESIGNED FOR A 15 INCH PENDULUM DROP, HAS BEEN PROFESSIONALLY DISASSEMBLED, INSPECTED AND CLEANED WITH ULTRASONICS. ALL WORN PIVOT BUSHINGS WERE REPLACED, AND ALL THREE MAINSPRINGS WERE REPLACED WITH NEW FINEST QUALITY MAINSPRINGS - TO ASSURE EXTENDED AND RELIABLE LONG TERM PERFORMANCE.
IMPORTANT NOTICE: I MENTIONED ABOVE THAT ALL 3 MAINSPRINGS WERE REPLACED (TIME, CHIME, HOUR STRIKE) WITH FINEST QUALITY MAINSPRINGS. THIS STEP IN THE RESTORATION OF A 113 SERIES MOVEMENT IS CRITICAL, BECAUSE THE OLD FATIGUED MAINSPRINGS WILL NOT YIELD THE LEVEL OF PERFORMANCE DESIRED IN TERMS OF CHIME TEMPO, HOUR STRIKE TEMPO, TIME ACCURACY AND RELIABILITY. THESE FINEST QUALITY MAINSPRINGS ARE EXPENSIVE, AND INCLUDED IN MY RESTORATION. SUPERSIZE PHOTO 9 SHOWS FRONT AND REAR DETAIL OF THE SUPERIOR NUMBER 113B SETH MOVEMENT. AS INFORMATION, THE 113B IS NEARLY TWICE AS LARGE, AND IS MUCH HEAVIER THAN THE WELL KNOWN SETH #124 WESTMINSTER MOVEMENT.
THE 113B WAS DESIGNED FOR USE IN SETHS PREMIER GRADE OF HIGHEST QUALITY LARGER WALL AND CABINET CLOCKS OF THE EARLY 1900S. ALL OPERATIONAL ASPECTS OF THE MOVEMENT WERE INSPECTED AND CORRECTED, IF NECESSARY, READYING THE MOVEMENT FOR YEARS AND YEARS OF SERVICE. THE MOVEMENT WAS THEN PROPERLY REASSEMBLED, LUBRICATED, TESTED AND ADJUSTED WITH BOTH ELECTRONIC AND MECHANICAL INSTRUMENTATION. A FINAL PORTION OF THE SERVICE PROCESS IS ELECTRONIC AND MECHANICAL TESTING OF THE MOVEMENT FOR PENDULUM BEAT ERROR, RATE, RELIABILITY AND OTHER FUNCTIONS I HAVE SOME RESTORATION AND TESTING ILLUSTRATIONS IN THE PHOTOS, SO PLEASE TAKE A LOOK. NOTICE IN SUPERSIZE PHOTO 11.
THE PICTURE SHOWS ELECTRONIC ADJUSTMENT OF THE PENDULUM BEAT, WITH THE OBJECTIVE OF APPROACHING ZERO ERROR, MEANING BOTH LEFT AND RIGHT SWINGS OF THE PENDULUM HAVE THE SAME AMPLITUDE AND DURATION CHARACTERISTICS. THIS RESTORED #113B MOVEMENT EASILY ACHIEVED AND HELD ZERO ERROR. ALL OF MY DISTINCTIVECLOCKS SETH THOMAS ANTIQUE CLOCKS ARE FULLY RESTORED IN EVERY WAY UNLESS SPECIFICALLY STATED OTHERWISE. MY SINCERE HOPE IS TO EXCEED YOUR EXPECTATIONS IN EVERY WAY.
INFORMATION ABOUT THE SOUND FILES. FOUR E COMMERCE SOUND FILES OF THE SETH CHIME CLOCK NUMBER 102 - 1914 WITH #113B MOVEMENT IN OPERATION ARE AT THE BEGINNING OF MY LISTING AND ALSO AVAILABLE IN. PENDULUM BEAT-ESCAPEMENT/VERGE/CRUTCH AND TIME GEAR TRAIN OPERATION SOUNDS OF THE #113B MOVEMENT LISTEN FOR CLEAN AND EVEN SOUND, REGULARITY, AND THE ABSENCE OF ODD OR IRREGULAR NOISES. WESTMINSTER SEQUENCES AT 7:15 7:30 7:45 LISTEN FOR EVEN TEMPO WITH NO DRAGGING AND NO STRANGE SOUNDS.
FULL WESTMINSTER SEQUENCE AND HOUR STRIKE AT 8:00 - LISTEN FOR PURE DEEP NOTES WITH GOOD TIMBRE, RICH DECAY AND EVEN TEMPO OF THE MOVEMENT RATHER THAN SLOW/SLUGGISH TEMPO. IMPORTANT NOTE ABOUT SOUND RECORDING.
THE MICROPHONE IS IN CLOSE PROXIMITY TO THE MOVEMENT FOR RECORDING PURPOSES, AND SOME NORMAL GEAR TRAIN OPERATION SOUNDS WILL BE HEARD. THE OPERATION SOUNDS ARE NOT NOTICED AT TYPICAL LISTENING DISTANCES. The item "RESTORED SETH THOMAS ANTIQUE CHIME 102 -1914 WALL CLOCK IN RIBBON MAHOGANY" is in sale since Saturday, November 10, 2018.
This item is in the category "Collectibles\Clocks\Antique (Pre-1930)\Shelf, Mantel". The seller is "distinctiveclocks_and_audio" and is located in Irmo, South Carolina. This item can be shipped to United States, Canada, United Kingdom, Denmark, Romania, Slovakia, Bulgaria, Czech republic, Finland, Hungary, Latvia, Lithuania, Malta, Estonia, Australia, Greece, Portugal, Cyprus, Slovenia, Japan, Sweden, South Korea, Indonesia, Taiwan, South africa, Thailand, Belgium, France, Hong Kong, Ireland, Netherlands, Poland, Spain, Italy, Germany, Austria, Israel, Mexico, New Zealand, Singapore, Switzerland, Norway, Saudi arabia, Ukraine, United arab emirates, Qatar, Kuwait, Bahrain, Croatia, Malaysia, Brazil, Colombia, Panama, Jamaica.
Country/Region of Manufacture: United States