Seth Thomas Restored 4 Bell Sonora 55 1914 Antique Westminster Chimes Clock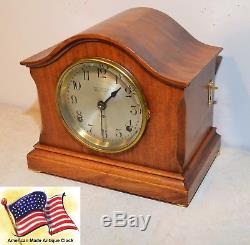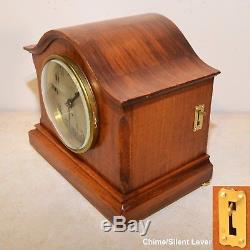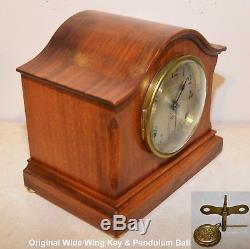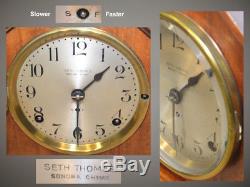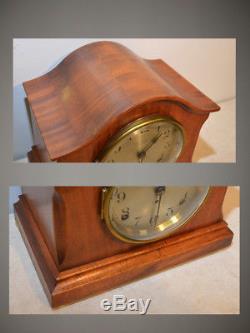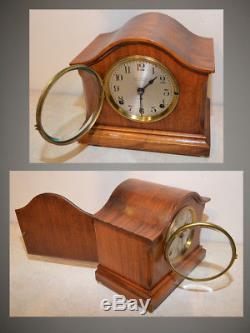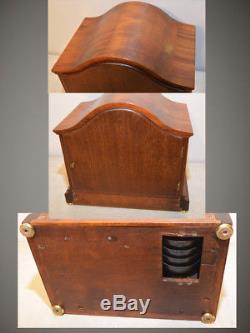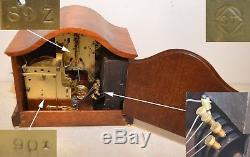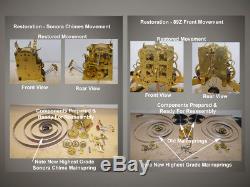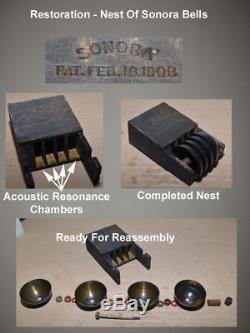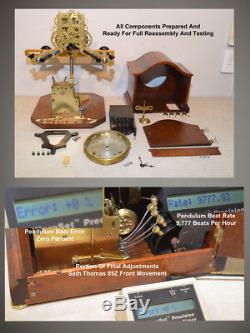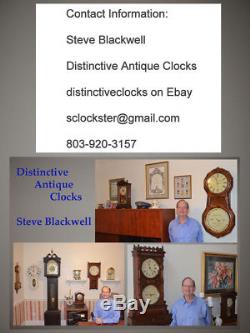 E COMMERCE SOUND PLAYER LINKS ARE ATTACHED AT THE START OF THIS LISTING TO ASSIST YOU IN REVIEWING THE. 4 BELL SONORA CHIME CLOCK NUMBER 55 - 1914.
FOR YOUR COLLECTION, OR FOR ONES OWN PLEASURE. IS AN ELEGANT AND TASTEFULLY DESIGNED.
WESTMINSTER CHIME CLOCK NUMBER 55 1914. AND BOTH CLOCK MOVEMENTS AS WELL AS ALL ASPECTS OF THIS LOVELY SONORA HAVE BEEN COMPLETELY SERVICED AND RESTORED. ONE WILL HAVE TO LOOK AN AWFULLY LONG TIME AND WILL STILL NOT FIND A FULLY RESTORED SONORA CHIME CLOCK NO. 55 AS FINE AS THIS ONE!
THIS IS A SONORA CHIME CLOCK WITH A NEST OF FOUR RESONATED BELLS. THE CHIMES ARE RESONANT, WITH SUPERB TIMBRE AND DECAY AFTER EACH NOTE IS SOUNDED OTHER NON-SETH BELL CHIME ANTIQUE CLOCKS SIMPLY CANNOT COMPARE WITH THE BELL SOUNDS FROM THIS CHIME 55 SONORA.
THE NEW OWNER WILL DEFINITELY WANT TO PLACE THE SETH 55 IN A VERY SPECIAL LOCATION IN THE HOME. THE SETH THOMAS SONORA CHIME CLOCK NUMBER 55 1914 IS LISTED IN NOTED AUTHORITY TRAN DUY LYS SETH THOMAS CLOCKS AND MOVEMENTS THIRD EDITION, VOLUME 1, PAGE 151. THE SONORA 55 IS A DELIGHT TO VIEW, WITH A HIGHEST GRADE SATIN DULL RUBBED RIBBON MAHOGANY PATINA AND A CLEAN AND STYLISH YET COMPACT CASE DESIGN THAT REALLY ATTRACTS ATTENTION. THE DORIC TOP STYLING COUPLED WITH THE DUAL SIDE PANELS AND FULL BONNET PRESENTS AN INVITING TRANSITION TO THE EASILY READ 5 ½ INCH DIAL AND COMPLEMENTING POLISHED BRASS BEZEL WITH HEAVY CONVEX AND BEVELED DIAL GLASS. BRASS BUTTON STYLE FEET AND BEVELED VERTICAL FRONT CABINET EDGES GIVE THE SONORA 55 AN ADDED ELEGANCE.
THIS PARTICULAR SONORA ALWAYS DRAWS GUESTS OR FRIENDS BACK FOR ANOTHER LOOK, BECAUSE THEY WILL WONDER HOW SUCH A LOVELY WESTMINSTER BELL CHIME SOUND CAN COME FORTH FROM A PETITE CABINET CLOCK! WITH THE SONORA 55 DESIGN, SETH ACHIEVED THE SONORA SOUND IN A SMALLER CABINET SO THAT CUSTOMERS LOOKING FOR A SONORA WITH FLEXIBLE PLACEMENT OPTIONS WOULD HAVE A SMART CHOICE IN THE SONORA 55. INDEED, THIS IS ONE OF THE MOST SOUGHT AFTER SONORAS BECAUSE IT CAN BE PLACED PRACTICALLY ANYWHERE AND IS GUARANTEED TO ATTRACT ATTENTION NO MATTER WHERE IT IS LOCATED, WHETHER IT BE USED PRIMARILY FOR TIME KEEPING, AS A DÉCOR ITEM, OR BOTH. PLEASE TAKE A LOOK AT THE SUPERSIZE PHOTOS FOR HIGH RESOLUTION CLOSE IN VIEWS. THE ORIGINAL SHELLAC ON THE DULL RUBBED GRAINED MAHOGANY FINISH WAS AMALGAMATED AND POLISHED, AND THE ENTIRE CABINET WAS PROFESSIONALLY CONDITIONED AND RESTORED WITH MY SPECIAL PROCESS, IN ORDER TO BRING FORTH THE RICHNESS OF THE ORIGINAL MAHOGANY TIME CONSUMING, YES BUT JUST LOOK AT THE BEAUTY OF THIS SONORA NO.
THIS SONORA 55 IS AN ALL-ORIGINAL FULLY RESTORED BEAUTY THAT YOU WILL TAKE GREAT PRIDE IN OWNING. EVERY ASPECT OF THE SONORA 55 HAS BEEN RESTORED TO ORIGINAL SPECIFICATIONS, INCLUDING THE NEST OF FOUR RESONATED SONORA BELLS. AND YOU CAN BE ASSURED OF THE QUALITY, BECAUSE MY PERSONAL OBJECTIVE, AS ALWAYS, IS TO EXCEED YOUR EXPECTATIONS. ANYONE WHO DESIRES SHOULD FEEL FREE TO CONTACT ME AND I WILL BE HAPPY TO DISCUSS DETAILS OF THE SONORA 55, AS WELL AS DIFFERENCES BETWEEN THE VARIOUS SONORAS IN GENERAL.
THE GENEROUS 5 ½ SILVERED SONORA DIAL CAN BE VIEWED FROM ACROSS A LARGE ROOM, AND HAS LARGE AND CLEAR BLACK ARABIC NUMERALS AND SETH THOMAS LARGE SPADE CUT STEEL MINUTE AND HOUR HANDS. SURROUNDING THE DIAL IS A LOVELY POLISHED BRASS SASH AND BEZEL, WITH A CONVEX, HEAVILY BEVELED DIAL GLASS. THE BEZEL SNAPS CLOSED NICELY, AND DOES NOT SAG, AS DO SOME. SUPERSIZE PHOTO 4 INCLUDES CLOSE UP VIEWS OF THE BEVELED GLASS AND SILVERED DIAL. THE WINDING HOLE NEAR THE 8 IS FOR THE HOUR COUNT CHIME; THE ONE NEAR THE 4 IS FOR THE TIME TRAIN.
BOTH THE HOUR COUNT AND TIME TRAIN ARE HANDLED BY THE NO. ANOTHER HOLE AT THE 3 IS FOR WINDING THE QUARTER-HOUR WESTMINSTER CHIMES, HANDLED BY THE NO. A SMALLER HOLE BELOW THE HAND SHAFT IN THE MIDDLE OF THE DIAL IS FOR ACCESSING THE SLOW-FAST TIME ADJUSTMENT.
A SLIDE LEVER ON THE SIDE OF THE CASE IS FOR CHIME-SILENT OPERATION. WHEN OPERATED, THE QUARTER HOUR CHIMES WILL BE SILENCED. THE 89Z MOVEMENT HANDLES THE TIME AND HOUR STRIKE FUNCTIONS AND THE 90I MOVEMENT HANDLES THE QUARTER HOUR FUNCTIONS. EACH QUARTER HOUR SEQUENCE IS SOUNDED ON THE RESONATED BELLS WITH RICH HARMONICS, TIMBRE AND LINGERING DECAY WHEN STRUCK.
THE WESTMINSTER SEQUENCE IS SOUNDED ON THE NEST OF FOUR BELLS. THE HOUR COUNT IS SOUNDED AS A FULL BODIED NOTE ON SONORA BELL 4. PLEASE MAKE IT A POINT TO LISTEN AND CAREFULLY REVIEW THE ATTACHED E COMMERCE SOUND PLAYER FILES IN ORDER TO FULLY APPRECIATE WHAT OWNERS IN THE 1914 TIME FRAME EXPERIENCED WITH THEIR NEW AND, AT THE TIME, VERY EXPENSIVE SONORA 55 CLOCKS. 55 - 1914 WILL BE THE CENTER-PIECE OF A GRAND DECORATIVE SETTING, AND IT IS AN EXCELLENT INVESTMENT, BECAUSE ITS VALUE WILL CONTINUE TO APPRECIATE YEAR AFTER YEAR. THIS IS A MID/COMPACT SIZE DORIC CABINET SONORA CHIME CLOCK , SUITABLE FOR MANTLE, TABLE, OR SHELF DISPLAY - IDEAL FOR A GIFT.
A MEMORABLE PRESENT FOR SOMEONE SPECIAL. YOUR PERSONAL USE, OR AS AN ADDITION TO YOUR COLLECTION. MEASUREMENTS ARE 11 W X 9 ½H X 8 ¼ D. THE NEST OF SONORA BELLS. THE RESTORATION PROCESS INCLUDED COMPLETE DISASSEMBLY AND INSPECTION OF EVERY ASPECT OF THE CLOCK.
THE SONORA CHIME BELLS AND CHIME BLOCK ASSEMBLY WERE CAREFULLY DISASSEMBLED, CLEANED TO RESTORE THE RESONANT TIMBRE OF THE SONORA BELLS, AND EXAMINED FOR CONDITION TO INSURE THE ABSENCE OF HAIRLINE CRACKS, ETC. SUPERSIZE PHOTO 10 SHOWS THE DISASSEMBLED, CLEANED AND INSPECTED BELLS AND BELL NEST WITH SOUND CAVITIES THAT CAN BE SEEN ON THE END. ALSO PICTURED IS THE SONORA PATENT MARK THAT IS EMBOSSED ON THE WOODEN BELL NEST.
CAREFUL INSPECTION OF THE BELLS IS EXTREMELY IMPORTANT. ONE HAIRLINE CRACK CAN CAUSE A SONORA BELL TO LOSE ALL TONE AND TIMBRE, AND THE BEGINNING OF A HAIRLINE WILL ALMOST ALWAYS GROW TO A FULL HAIRLINE CRACK. IN ADDITION, OTHER ISSUES WITH CRACKED, BROKEN, OR DETERIORATED WOODEN AND PRESSED FELT BELL SPACERS, USED TO SEPARATE THE BELLS, WILL IMPACT THE SOUND, YET CANNOT BE DETECTED BY CASUAL INSPECTION.
MOVEMENTS - #89Z AND #90I. BOTH THE 89Z TIME AND HOUR STRIKE MOVEMENT, AND THE 90I CHIME MOVEMENT WERE DISASSEMBLED, CLEANED WITH ULTRASONICS, INSPECTED IN DETAIL FOR CONDITION OF THE PIVOT BUSHINGS, GEAR TRAIN, AND ARBOR OR PIVOT ABNORMALITIES. OUT OF TOLERANCE BUSHINGS WERE REPLACED.
EVERY OPERATIONAL ASPECT OF EACH MOVEMENT WAS ADDRESSED. THE MOVEMENTS WERE THEN REASSEMBLED AND PROPERLY LUBRICATED. MAINSPRINGS IN BOTH THE 89Z AND 90I MOVEMENTS WERE UNLOADED, AND REPLACED WITH NEW SUPERIOR GRADE MAINSPRINGS, WHICH ARE ONE OF THE MAIN COMPONENTS TO ASSURE LONG TERM DEPENDABLE SERVICE.
THERE ARE SEVERAL CRITICAL COMPONENTS IN THE #90I CHIME MOVEMENT: THE GREAT WHEEL GEAR, THE SECOND WHEEL GEAR WITH PINION, THE CHIME DRUM THAT SYNCHRONIZES AND DRIVES THE CHIME HAMMERS, AND THE POWERFUL MAINSPRING. IF ANY OF THESE COMPONENTS IS ABOUT TO FAIL, IT MAY NOT BE OBVIOUS. WHEN IT OCCURS, THE COST TO REPAIR WILL GIVE YOU A JOLT, BECAUSE THERE ARE NONE IN SUPPLY CHANNELS; ANOTHER MOVEMENT WILL BE REQUIRED. THAT IS WHY I ALWAYS MAKE SURE THESE CRITICAL COMPONENTS ARE IN TOP CONDITION ON MY RESTORED SETH SONORA CLOCKS. JUST LISTEN TO THE ATTACHED SOUND FILES FOR AN ACCURATE RENDERING OF THE CLARITY, RESONANCE, TONE, AND RICH DECAY OF EACH NOTE STRUCK WHEN THE SONORA 55 CHIMES AND STRIKES THE HOUR.
AFTER REASSAMBLY, APPROPRIATE ADJUSTMENTS FOR TIME, CHIME, HOUR STRIKE, SYNCHRONIZATION, PENDULUM RATE AND BEAT ERROR ETC. WERE ACCOMPLISHED USING MECHANICAL AND ELECTRONIC MEANS. AN EXTENDED BENCH RUN TEST FOLLOWED.
SEVERAL PHOTOS OF THE RESTORATION WORK ARE PART OF THE PORTFOLIO. AS PART OF THE TESTS AND ADJUSTMENTS PROCEDURES ON THE #89Z MOVEMENT, THE.
ARE CHECKED AND SET - AN OBJECTIVE OF NEAR ZERO FOR BEAT ERROR IS DESIRED. THIS RESTORED 89Z MOVEMENT ADJUSTED TO ZERO ERROR AND STABILIZED AT ZERO ERROR. THIS ADJUSTMENT PROCEDURE IS HIGHLIGHTED IN PHOTO 11. FOR PENDULUM BEAT RATE, THE 89Z IS DESIGNED TO RUN AT 9,777 BEATS PER HOUR. THE RESTORED MOVEMENT EASILY HELD THE 9,777 BEAT RATE, MEANING THE TIME KEEPING WILL BE DEPENDABLE AND THE MOVEMENT WILL GIVE RELIABLE SERVICE. IN FACT, BOTH MOVEMENTS IN THE SONORA 55 WERE RESTORED TO SUPERIOR CONDITIION. THE BEAT RATE ADJUSTMENT IS ALSO PICTURED IN PHOTO 11. ALL OF MY DISTINCTIVECLOCKS SETH THOMAS ANTIQUE CLOCKS ARE FULLY RESTORED IN EVERY WAY UNLESS SPECIFICALLY STATED OTHERWISE.
MY SINCERE HOPE IS TO EXCEED YOUR EXPECTATIONS IN EVERY WAY. IMPORTANT NOTE - SOUND FILES ATTACHED. FOUR E COMMERCE SOUND PLAYER LINKS OF THE SETH SONORA CHIME 55 - 1914 WITH #89Z AND # 90I MOVEMENTS IN OPERATION ARE AVAILABLE AT THE START OF THIS LISTING.
PENDULUM BEAT-ESCAPEMENT/VERGE/CRUTCH AND TIME GEAR TRAIN OPERATION SOUNDS OF THE MOVEMENT LISTEN FOR CLEAN AND EVEN SOUND, REGULARITY, AND THE ABSENCE OF ODD NOISES. WESTMINSTER SEQUENCES AT 7:15 7:30 7:45 - LISTEN FOR PURE NOTES WITH GOOD TIMBRE, RICH DECAY AND ZESTY TEMPO OF THE MOVEMENT RATHER THAN A SLOW, SLUGGISH OR DRAGGING TEMPO. THE FULL 16 NOTE WESTMINSTER SEQUENCE AND HOUR COUNT AT 8:00. THE HOUR COUNT IS SOUNDED WITH ALL 4 BELLS STRUCK SIMULTANEOUSLY FOR RICH AND FULL 4 BELL HARMONICS - LISTEN FOR PURE NOTES WITH GOOD TIMBRE AND RICH DECAY - AND AGAIN THE ZESTY TEMPO OF THE MOVEMENT RATHER THAN SLOW, SLUGGISH OR DRAGGING TEMPO.
IMPORTANT NOTE ABOUT SOUND RECORDING. THE MICROPHONE IS IN CLOSE PROXIMITY TO THE MOVEMENT FOR RECORDING PURPOSES, AND SOME NORMAL GEAR TRAIN OPERATION SOUNDS WILL BE HEARD. THE OPERATION SOUNDS ARE NOT NOTICED AT TYPICAL LISTENING DISTANCES. The item "SETH THOMAS RESTORED 4 BELL SONORA 55 1914 ANTIQUE WESTMINSTER CHIMES CLOCK" is in sale since Saturday, December 16, 2017. This item is in the category "Collectibles\Clocks\Antique (Pre-1930)\Shelf, Mantel".
The seller is "distinctiveclocks" and is located in Irmo, South Carolina. This item can be shipped to United States, Canada, United Kingdom, Denmark, Romania, Slovakia, Bulgaria, Czech republic, Finland, Hungary, Latvia, Lithuania, Malta, Estonia, Australia, Greece, Portugal, Cyprus, Slovenia, Japan, Sweden, South Korea, Indonesia, Taiwan, South africa, Thailand, Belgium, France, Hong Kong, Ireland, Netherlands, Poland, Spain, Italy, Germany, Austria, Russian federation, Israel, Mexico, New Zealand, Singapore, Switzerland, Norway, Saudi arabia, Ukraine, United arab emirates, Qatar, Kuwait, Bahrain, Croatia, Malaysia, Brazil, Colombia, Panama, Jamaica.
Country/Region of Manufacture: United States