Vintage Seth Thomas Northbury 1W Westminster Chime Clock Excellent Condition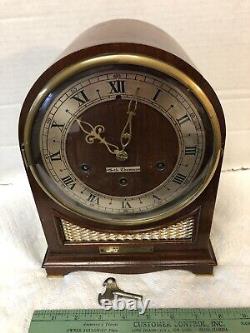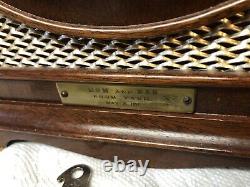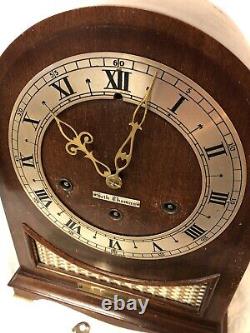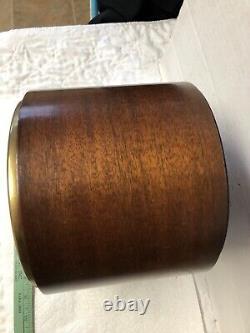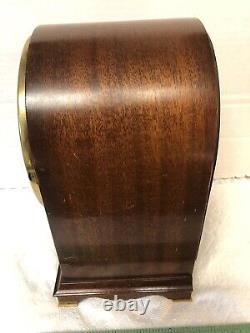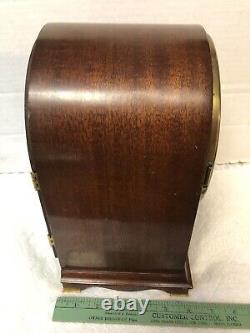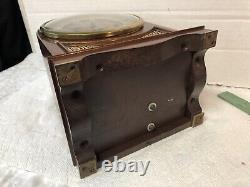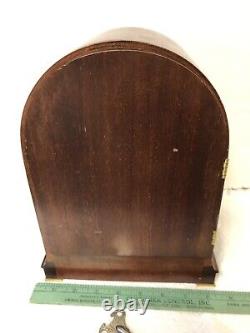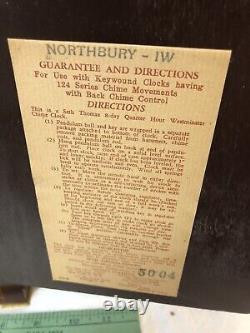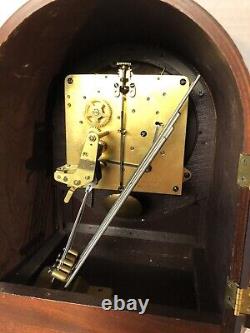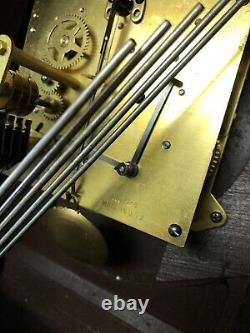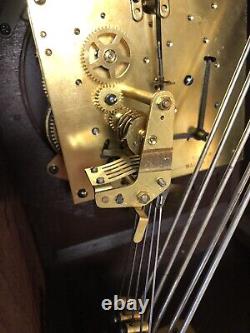 Vintage Seth Thomas Northbury 1W Westminster Chime Clock Excellent Condition. The movement is model 124.
The case measures about 6" x 8 1/4" and 10 3/4 high. It weighs almost 7 pounds. Comes with original pendulum weight and a vintage key that fits fine. Clock case looks fine with no damage and only slightest edge wear.
There is an original brass presentation gift plaque below dial dated 1952. The arbor springs all feel fine and when tested this clock has been running and chiming fine for several days now.
Please see my 12 detailed photos. Seth Thomas Clock Company was one of the most prolific and long lived clock companies. The quality of their products was always maintained at an above average level. Many American clock factories in the 19th century suffered factory fires but Seth Thomas was fortunate in this respect. Through conservative growth and taking advantage of the new ideas of others, Seth Thomas was able to enjoy financial stability, whereas many other companies faced financial difficulties.
Seth Thomas was born in Wolcott, Connecticut in 1785, went to work for clockmaker Eli Terry in 1807, bought out Terry's factory (together with Silas Hoadley) in 1810, and in December 1813 bought out Heman Clark's clockmaking business in Plymouth Hollow. Thomas continued Clark's wooden movement tall clock production, and about 1817 began making the wooden movement shelf clock. These were cased in pillar and scroll cases until 1830, when the bronze looking glass and other styles became popular. In 1842, brass movements were introduced, and first cased in the popular O. Case (which was made until 1913).
Wood movements were phased out in 1845. Thomas incorporated the Seth Thomas Clock Company, so that the business would outlive him. Thomas died in 1859, and Plymouth Hollow was renamed Thomaston in his honor in 1865. Thomas was very conservative, and after his death many new styles of clocks were introduced by his sons.
Regulator clocks were introduced in 1860. Spring driven clocks were introduced ca. Perpetual calendar clocks were made from ca. 1895; black (Adamantine finish) wood mantel clocks, ca. 1895; oak kitchen clocks, 1890-ca.
1915; tambour clocks, introduced in 1904; chime clocks, introduced in 1909; and electric A/C clocks, introduced in 1928. Many Seth Thomas clocks from 1881 to 1918 have a date code stamped in ink on the case back or bottom. Usually, the year is done in reverse, followed by a letter A-L representing the month. For example, April 1897 would appear as 7981 D. In 1930 a holding company named General Time Instruments Corporation was formed to unite Seth Thomas Clock Company with Western Clock Company.
In 1955, a flood badly damaged the Seth Thomas factory. They phased out movement manufacturing and began importing many movements from Germany. Hermle, in the Black forest of Germany, has made many movements for Seth Thomas clocks.
In 1968, General Time was bought by Talley Industries, and in 1979 the headquarters was moved to Norcross, GA.