Seth Thomas Mantel Clock Georgetown University 1925 John D O'Reilly Presentation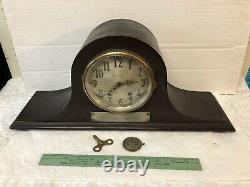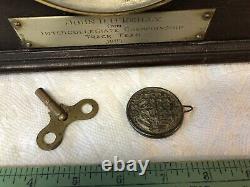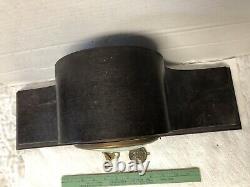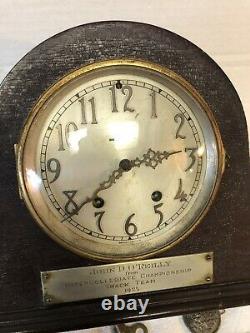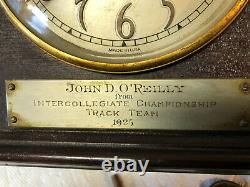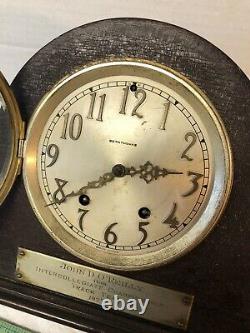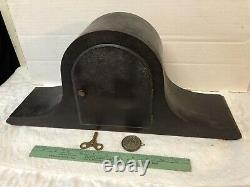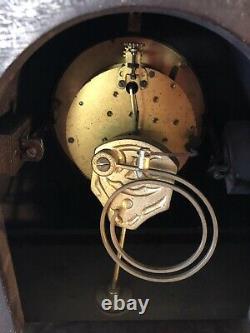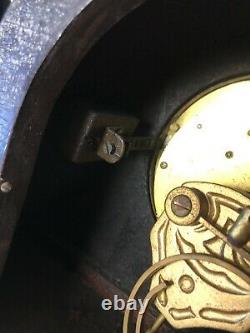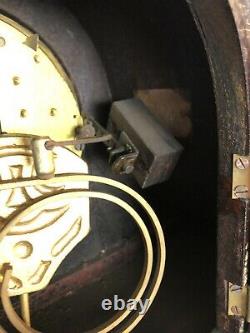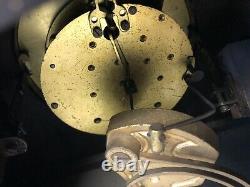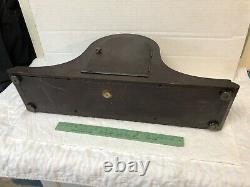 Seth Thomas Mantel Clock Georgetown University 1925 John D O'Reilly Presentation. The special thing about this clock is the provenance - see story below. It has an engraved plaque on the front showing that provenance and I guarantee it is genuine.
The Seth Thomas movement is model 120 time & strike. The wood case measures 5 3/8" x 20 1/8" and 9 high; it weighs 5 pounds 12 ounces. Clock case is fine with some normal edge wear.
The movement will need some work as it is not currently running - it will need to be cleaned, oiled and adjusted, inside small wood block that holds dial in place needs to be tightened to wall and chime striker needs to be tightened, someone handy or has some clock knowledge can have it running fine in no time. Please see my 12 photos. In a two decade career as a Georgetown coach and administrator, few were as more beloved among its student body than John D. O'Reilly, who coached men's basketball in two periods from 1914 through 1927. O'Reilly has done more for Georgetown than has any one man for any institution in the country, wrote The HOYA in 1920.
This summer he had the satisfaction of seeing three of his proteges in the Olympic games, last winter his basketball team lost but one game, while last spring the O'Reilly-coached baseball sluggers were adjudged the champions of the college world. O'Reilly deserves the deepest gratitude of the hosts of Georgetown men all over the country for his capable and efficient work as mentor of Blue and Gray athletes. John O'Reilly was born in Boston in 1878, a first generation Irish-American whose parents had emigrated to New England.
In 1914, he was hired by Georgetown as the director of physical fitness at Ryan Gymnasium, and soon became an indispensable part of the athletic landscape. Georgetown fells justly proud in the acquisition of Mr. O'Reilly, who came here the past fall as trainer of athletes and coach of track, basket-ball and baseball, wrote the College yearbook. In his profession he ranks with the best men in the country. For many years past he was head coach and trainer of the high schools of Boston, Mass.
And many of the most prominent athletes of the Eastern college world are products of his tutelage. His success at Georgetown the present year has been pronounced. For the next seven years O'Reilly maintained a busy schedule, running the tiny gymnasium's training and physical education efforts, serving as head coach to three of the school's four leading sports, and the trainer and assistant coach to its most prominent sport, football. The role was an important one in that its head coach, Albert Exendine, was an attorney by trade who spent eight months out of the year in Tulsa and commuted to Washington in the fall. Keeping up the off-season recruiting and conditioning fell to O'Reilly, who soon established himself as one of the best. In a seven year stretch from 1918 to 1925, Georgetown won a record 52 straight games at Ryan Gym, with wins over the likes of Kentucky, Georgia Tech, and North Carolina. Indeed, O'Reilly played a hand in a renaissance of Georgetown sports in by the close of the decade, including a combined 22-2 over two basketball seasons and a 34-12 record over four seasons in football. Two sports hit hard by the Great War, baseball and track would soon experience a golden age in national competition in the 1920's. With a thick cover of gray hair on the 42 year old O'Reilly, he was dubbed the "Silver Fox" by his students, but time would catch up with him at the close of the 1921 football season, when he complained of stomach pains following a Thanksgiving day game at Griffith Stadium. A few weeks later he was diagnosed with an abdominal abscess, requiring major surgery which sidelined him for the 1922-23 basketball season, to which former coach James Colliflower ably assisted.
A year later, O'Reilly fell victim to exhaustion at the close of the 1922 football season, and he missed a second season as coach. The two year gap as coach did not weaken his skills or resolve, but the gap in any substantive recruiting set the course for some mediocre Georgetown teams in the mid-1920's for baseball and basketball, while track continued under his tutelage with some outstanding performers. After a combined 10-14 mark over his final two seasons at the gymnasium, O'Reilly resigned as basketball coach after the 1927 season to concentrate on track, and retired overall in 1931.
At the conclusion of his tenure, O'Reilly was the school's all time winningest baseball coach (now third best-overall), the school's all-time winningest basketball coach (now fifth best overall), and the coach of many of the greatest track and field starts Georgetown has ever produced. O'Reilly's official position at Georgetown is that of Physical Director but that title indicates only a small part of the good work he has done here, write the dedication in the 1926 Ye Domesday Booke. Year after year he has been the guiding spirit behind Georgetown's winning baseball teams. Perhaps his greatest performance was in 1922 when his team was unanimously chosen intercollegiate champions.
Up to this last season his basketball teams have always been equal to the best in the Eastern colleges. His only reward for this is the everlasting gratitude of the boy and the internal joy he feels at being able to help a fellow man.
Perhaps it is this attitude of unselfishness that has made the man the overwhelming favorite of the University. Perhaps it is the flowing eloquence of his silver tongue giving wholesome advice that makes the whole school take him for its counselor in times of uncertainty. Perhaps it is that same flowing eloquence abounding in wit and humor as well as an irresistible philosophy that enables him to take by storm every assembly he has occasion to address. Perhaps it is that affable smile of his that makes him the friend of every worth-while man in the school. But certainly the ultimate cause of the respectful popularity in which he is held by every Georgetown man is that instinct that prompts him to say to his teams: Go in and play a hard game; play a winning game if you can; but at least play a clean and upright game.
O'Reilly died in 1946 at the age of 68, and his obituary was carried on the wire services nationwide. He was posthumously selected to the inaugural class of the Georgetown University Athletic Hall of Fame in 1953. Seth Thomas Clock Company was one of the most prolific and long lived clock companies. The quality of their products was always maintained at an above average level. Many American clock factories in the 19th century suffered factory fires but Seth Thomas was fortunate in this respect.
Through conservative growth and taking advantage of the new ideas of others, Seth Thomas was able to enjoy financial stability, whereas many other companies faced financial difficulties. Seth Thomas was born in Wolcott, Connecticut in 1785, went to work for clockmaker Eli Terry in 1807, bought out Terry's factory (together with Silas Hoadley) in 1810, and in December 1813 bought out Heman Clark's clockmaking business in Plymouth Hollow. Thomas continued Clark's wooden movement tall clock production, and about 1817 began making the wooden movement shelf clock.
These were cased in pillar and scroll cases until 1830, when the bronze looking glass and other styles became popular. In 1842, brass movements were introduced, and first cased in the popular O. Case (which was made until 1913).
Wood movements were phased out in 1845. Thomas incorporated the Seth Thomas Clock Company, so that the business would outlive him. Thomas died in 1859, and Plymouth Hollow was renamed Thomaston in his honor in 1865. Thomas was very conservative, and after his death many new styles of clocks were introduced by his sons.
Regulator clocks were introduced in 1860. Spring driven clocks were introduced ca. Perpetual calendar clocks were made from ca.
1895; black (Adamantine finish) wood mantel clocks, ca. 1895; oak kitchen clocks, 1890-ca. 1915; tambour clocks, introduced in 1904; chime clocks, introduced in 1909; and electric A/C clocks, introduced in 1928. Many Seth Thomas clocks from 1881 to 1918 have a date code stamped in ink on the case back or bottom. Usually, the year is done in reverse, followed by a letter A-L representing the month.
For example, April 1897 would appear as 7981 D. In 1930 a holding company named General Time Instruments Corporation was formed to unite Seth Thomas Clock Company with Western Clock Company. In 1955, a flood badly damaged the Seth Thomas factory. They phased out movement manufacturing and began importing many movements from Germany. Hermle, in the Black forest of Germany, has made many movements for Seth Thomas clocks. In 1968, General Time was bought by Talley Industries, and in 1979 the headquarters was moved to Norcross, GA. This item is in the category "Collectibles\Decorative Collectibles\Clocks\Desk, Mantel & Shelf Clocks". The seller is "spooknook" and is located in this country: US. This item can be shipped worldwide.
Character: Clocking
Style: Antique
Theme: Universities
Type: mantel clock
Year Manufactured: 1925
Brand: Seth Thomas