Fully And Properly Restored Seth Thomas Black Adamantine Mantel Clock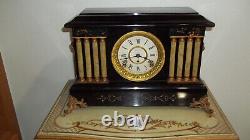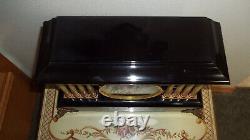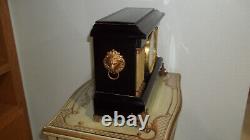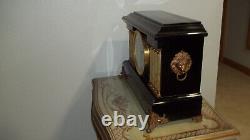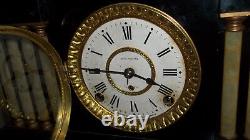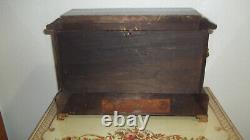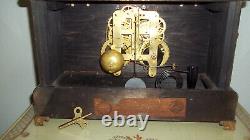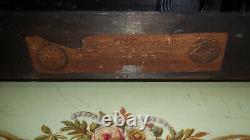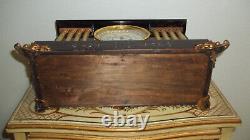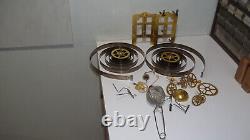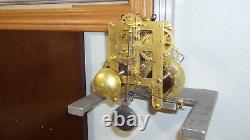 FULLY AND PROPERLY RESTORED SETH THOMAS BLACK ADAMANTINE MANTEL CLOCK. This clock features the patented Seth Thomas Adamantine finish. This is a celluloid finish that in the catalogs is described this way; "the finish is very durable and cannot be scratched or dented by any ordinary usage". The clock is somewhat rare, I cannot find the clock in any of my books. I believe that the model is Bison, based on examining the name written on the bottom of the clock under a black light.
I will tell you that this is one of the few Adamantine clocks I have seen with four columns on each side of the dial. The clock has a fully and properly restored model 89 C movement, one of the many models of 89 movements that were the workhorses of the Seth Thomas line for over 30 years. This clock strikes the hour on a coil gong and the half-hour on a brass bell. This makes it easy, without seeing the clock, to know if it is striking the half-hour or the hour. The finish is in exceptional condition and the metal trim pieces and the dial present well. I ask you to please examine the 12 high resolution pictures carefully as they provide much of the description for this fine timepiece. Case dimensions are 14.25 inches wide, 10.75 inches high and 6.5 inches deep. Clock comes complete with the original pendulum and the original winding key. ABOUT THE MEANING OF ADAMANTINE. Adamantine means unbreakable, sturdy or hard wearing. The Celluloid Manufacturing Company of New York developed and patented this early form of plastic in 1880, and Seth Thomas soon after acquired the rights to the material. Celluloid was the first thermoplastic and was made by combining nitrocellulose with camphor. It can take on many colors with the addition of dyes and other agents. Molding and shaping are easily accomplished, so it could imitate more expensive materials such as stone or ivory. Many people use the word incorrectly, only Seth Thomas had the right to use this material on their clock cases. WHAT MAKES A CLOCK A GOOD VALUE? The rules of economics are fairly straightforward.
Simply put, it is almost impossible to spend a little and get a lot. Antique and vintage clocks follow these rules as well. I have tried through the photos to show the basic steps that I do in restoring these wonderful machines to their original state.
My goal is to provide you with a quality time piece that will provide enjoyment and be a source of pride in your home for years to come. Equally important to me is to provide you with a clock that I believe will retain its value over the years. That is what I think constitutes real value in antique and vintage clocks. MY PHILOSOPHY ON CLOCKS AND CLOCK MOVEMENTS. The only way to properly repair a movement is to completely disassemble, clean and inspect all parts, and make the needed repairs by proper horoligical methods. This includes the rebushing of all worn holes and the polishing of any rough pivots. The movements are then reassembled, lubricated with a high-quality clock oil and test run for 8 days. This is a very time intensive process but is the only correct way to properly recondition a clock movement. You should expect a movement repaired in this manner to run for ten years trouble-free. I have been doing clock repair for over 37 years. I apprenticed under an Oregon State licensed repairman and have been a member of the National Association of Watch and Clock Collectors (NAWCC) since 1981. I do not make a living doing this; it has become a passion of mine. Once they are made like new mechanically, I put them up for sale in the hopes of paying for my materials and upgrading my personal collection.
My hope is also to provide you with an heirloom to cherish for years to come. Read my feedback and you can see that I live by these words.
In addition, specific instructions on how to properly operate the clock and reset the chimes are provided as well as how to handle Daylight Savings time. Packaging was the best I've seen! A real professional clock man! Beautiful clock, better than description. Runs great with no adjustments required.
His prices are more than fair. Extremely well packaged, good price & came with all the instructions needed. Better than pictures running perfectly and packed for the apocalypse. Great Clock- Great deal- Highly Recommend.
Excellent packing and quality workmanship. Clock was well packed and arrived in great shape. The clock, a rare beautiful antique. Happy Clock and a Happy Customer!
Packed to survive a nuclear war! More than pleased with this clock and its excellent condition! Best Packing I have ever seen, arrived no damage!!! He was a pleasure to deal with. Beautiful clock, just as described.
Packed perfectly, clock more beautiful than I expected and running as promised. Too good to be true.
Beautiful clock lovingly restored by an artist. Highly recommend doing business with longviewmark! The antique clock was well packed, arrived intact. A++, beautiful clock, thank you so much. Clock was superbly protected in box. Wonderful clock, works very well. Well packed; loved the helpful instructions. Clock arrived on time carefully packed and happily keeping time on mantle.
Everything about dealing with Mark surpassed all my expectations. Excellent packaging, clock exactly as described, great communication! He went way above and beyond to make me happy!
Fast service-very well packed-clock just as stated-I would deal with anytime-A++. Love the clock, thank you for going above and beyond!
Package arrived today, well packaged and item was exactly as pictured in the ad. Clock perfectly restored; excellent packing job. This is an amazing place to get an outstanding clock.
Very happy with my clock. Really appreciate the instructions he enclosed. Restoration is a true work of art. Clock exactly as described, very pleased.