Value Priced Restored Mahogany Seth Thomas 8 Deep-toned-bells Sonora 216-1914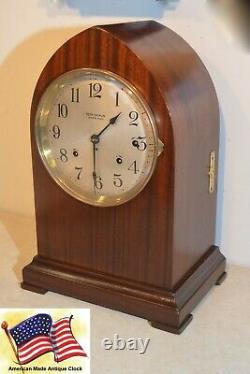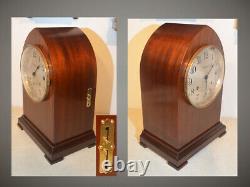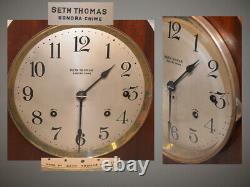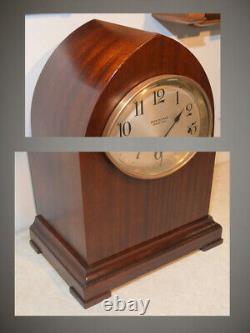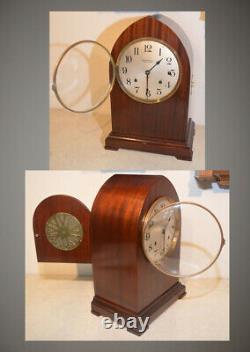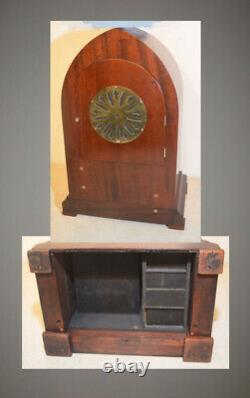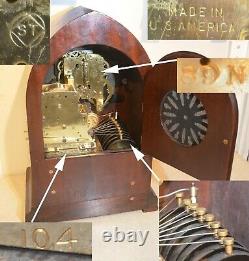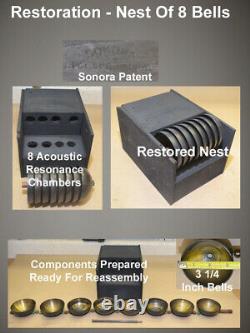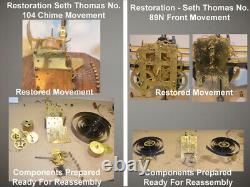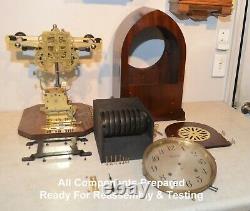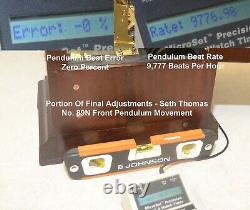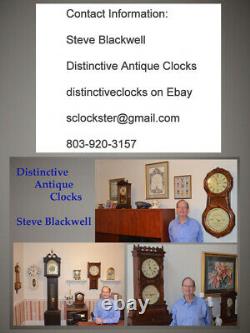 IMPORTANT WHAT TO EXPECT FROM ME. PART OF MY DNA IS THE LONG TERM AND CONTINUING PASSION FOR THE PROPER RESTORATION OF SELECTED ANTIQUE CLOCKS, PRIMARILY SETH THOMAS AND HERSCHEDE.
EACH RESTORATION IS ACCOMPLISHED VIA BEST METHODS AND PRACTICES, ACQUIRED THROUGH DECADES OF EXPERIENCE, KNOWLEDGE, AND TECHNIQUES ACQUIRED. THE CLOCKS THAT I SELECT FOR RESTORATION AND SUBSEQUENT RESALE REPRESENT SPECIFICALLY SELECTED MODELS, WHICH ARE BEST CANDIDATES FOR THE RESIDENTIAL CUSTOMER, OR SMALL BUSINESS OWNER, WHO DESIRES TO OWN AN HIERLOOM ANTIQUE CLOCK, AS WELL AS TO ENJOY A TASTE OF ANTIQUE CLOCK AMERICANA. SINCERELY PRESENTED, STEVE IN SOUTH CAROLINA. E COMMERCE SOUND FILE LINKS ARE ATTACHED AT THE START OF THIS LISTING TO ASSIST YOU IN REVIEWING THE.
8-DEEP-TONED-BELLS SONORA CHIME CLOCK NUMBER 216 - 1914. AT A MOST ATTACTIVE PRICE. FOR THAT VERY SPECIAL GIFT. OR FOR ONES OWN PLEASURE.
IS A MAGNIFICANT LARGE GOTHIC CABINET SETH THOMAS. SONORA WESTMINSTER CHIME CLOCK NUMBER 216 1914. THIS ONE IS EQUISITE, AND BOTH CLOCK MOVEMENTS IN THIS LOVELY SONORA HAVE BEEN COMPLETELY SERVICED AND RESTORED - ONE CAN LOOK A LONG, LONG TIME, BUT WILL NOT FIND A FULLY RESTORED SONORA CHIME CLOCK NO. THIS IS A SONORA CHIME CLOCK WITH A NEST OF EIGHT SUBERB DEEP TONED BELLS. AND AN EXPANSIVE SOUND CHAMBER.
THE LARGEST SOUND CHAMBER OF ANY CABINET CATHEDRAL SETH SONORA. THE CHIMES ARE RICH AND RESONANT OTHER NON-SETH BELL CHIME ANTIQUE CLOCKS SIMPLY CANNOT COMPARE WITH THE GLORIOUS SOUND FROM THIS CHIME 216 SONORA. THE NEW OWNER WILL DEFINITELY WANT TO PLACE THE SETH 216 IN A VERY SPECIAL LOCATION IN THE HOME. THE SONORA 216 IS A DELIGHT TO VIEW, WITH A MELLOW SATIN DULL RUBBED RIBBON MAHOGANY PATINA AND A GRAND YET CLEAN AND ELEGANT CASE DESIGN. THE CABINET IS VIRTUALLY FLAWLESS AND PRESENTS AN INVITING TRANSITION TO THE LARGE AND EASILY READ EIGHT INCH DIAL.
PLEASE TAKE A LOOK AT THE SUPERSIZE PHOTOS FOR HIGH RESOLUTION CLOSE IN VIEWS. THE ENTIRE CABINET WAS PROFESSIONALLY CONDITIONED AND RESTORED WITH MY SPECIAL PROCESS, IN ORDER TO BRING FORTH THE RICHNESS OF THE RIBBON MAHOGANY TIME CONSUMING, YES BUT JUST LOOK AT THE BEAUTY OF THIS EIGHTEEN AND ONE-HALF INCH HIGH SONORA NO. 216 GOTHIC CATHEDRAL STYLE CABINET!
THE SONORA 216 CABINET IS OUTSTANDING, AND VIRTUALLY PERFECT THE LARGE GOTHIC SONORA 266 WILL BE THE CENTER OF A VERY SPECIAL VIGNETTE IN YOUR HOME. THIS EIGHT BELL SONORA CHIME CLOCK NUMBER 216 IN NEAR-PERFECT CONDITION IS A MOST SOUGHT AFTER SETH THOMAS SONORA BY COLLECTORS AND SONORA ENTHUSIASTS.
FINDING ONE THAT IS, OR CAN BE, COMPLETELY RESTORED IS PLAIN DIFFICULT BECAUSE MOST ARE ALREADY PART OF PRIVATE COLLECTIONS. A NOTE ON DEEP TONED BELLS. SETH THOMAS SONORAS WERE OUTFITTED WITH THREE SIZES OF SONORA BELLS: SMALL BELLS, MEDIUM 2 7/8 INCH DIAMETER RESONATED BELLS, AND LARGE 3 1/4 INCH DIAMETER DEEP TONED BELLS.
EXAMPLES INCLUDE THE FOLLOWING: THE SONORA 55 AND 255 ARE EQUIPPED WITH SMALL BELLS; THE SONORA 61, 261, 64 AND 264 WERE OUTFITTED WITH MEDIUM 2 7/8 INCH RESONATED BELLS; THE SONORA 266, 216, AND SEVERAL OTHER OF THE MOST EXPENSIVE SONORAS, WERE FITTED WITH THE LARGE 3 1/4 INCH DEEP TONED BELLS. THERE IS A SIGNIFICANT DIFFERENCE IN THE PURE LISTENING PRESENCE GIVEN BY THE SONORA 216 WITH THE DEEP TONED NEST OF BELLS.
BY ALL MEANS TAKE A LISTEN AND HEAR FOR YOURSELF. SUPERSIZE PHOTO 8 HAS AN INSET WITH ONE OF THE BELLS ON A MEASURING TAPE THAT INDICATES THE 3 ¼ INCH MEASUREMENT. SETHS NUMBERING/NAMING SCHEME FOR SONORAS DEFIES LOGIC, BUT GENERALLY THE PREFIX 2 WAS USED TO INDICATE AN 8 BELL SONORA AS OPPOSED TO A 4 OR 5 BELL SONORA. THIS SONORA 216 IS AN ALL-ORIGINAL FULLY RESTORED BEAUTY THAT YOU WILL TAKE GREAT PRIDE IN OWNING.
IF YOU HAVE ADDITIONAL QUESTIONS OR NEED MORE DETAILS, BY ALL MEANS CONTACT ME. THE SONORA CHIME CLOCK NO. 216 1914 IS LISTED IN NOTED AUTHORITY TRAN DUY LYS VOLUME 1, 3D EDITION PAGE 157. 1913 WAS THE DATE OF FIRST APPEARANCE IN THE SETH THOMAS CATALOGS.
EVERY ASPECT OF THE SONORA 216 HAS BEEN RESTORED TO ORIGINAL SPECIFICATIONS, INCLUDING THE NEST OF EIGHT DEEP TONED SONORA BELLS. AND YOU CAN BE ASSURED OF THE QUALITY, BECAUSE MY PERSONAL OBJECTIVE, AS ALWAYS, IS TO EXCEED YOUR EXPECTATIONS. ANYONE WHO DESIRES SHOULD FEEL FREE TO CONTACT ME AND I WILL BE HAPPY TO DISCUSS DETAILS OF THE SONORA 216, AS WELL AS DIFFERENCES BETWEEN THE VARIOUS SONORAS IN GENERAL. PLEASE STUDY THE SUPERSIZE HIGH RESOLUTION PHOTOS TO REVIEW ALL ASPECTS OF THE SONORA CHIME 216.
THE GENEROUS 8 SILVERED SONORA DIAL IS SUPERIOR, WITH VIVID BLACK ARABIC NUMERALS AND CUT BLUED STEEL FULL SPADE SETH THOMAS SIGNATURE HANDS, CAN BE VIEWED FROM ACROSS A LARGE ROOM. SURROUNDING THE DIAL IS A LOVELY POLISHED BRASS SASH AND BEZEL, WITH A CONVEX, HEAVILY BEVELED DIAL GLASS. THE BEZEL SNAPS CLOSED NICELY, AND DOES NOT SAG, AS DO SOME. SUPERSIZE PHOTO 3 INCLUDES CLOSE UP VIEWS OF THE BEVELED GLASS AND SILVERED DIAL. IN ADDITION, INSETS IN PHOTO 3 SHOW THE SETH THOMAS SONORA CHIME AND MADE BY SETH THOMAS IN U. DIAL EMBOSSMENTS, AUTHENTICATING MANUFACTURE BY SETH THOMAS. THE RESTORED ORIGINAL DIAL IS FLAWLESS AND HAS THE SILVERED PATINA SO DESIRED WITH ANTIQUE SONORAS. THE ETCHED BLACK ARABIC NUMERALS ARE CRISP AND READABLE PLEASE REVIEW AND LET THE HIGH RESOLUTION PHOTOS SPEAK FOR THEMSELVES. THE SONORA 216 IS A LOVELY ANTIQUE FULLY RESTORED 8 BELL SONORA. AND IT DOES NOT LOOK LIKE A BRAND NEW OFF THE SHELF CLOCK. IT WOULD BE A TRAGIC INJUSTICE TO DESTROY THE VARIOUS PATINAS THAT GIVE THE SETH SUCH CHARACTER.
THE WINDING HOLE NEAR THE 8 IS FOR THE HOUR COUNT CHIME; THE ONE NEAR THE 4 IS FOR THE TIME TRAIN. BOTH THE HOUR COUNT AND TIME TRAIN ARE HANDLED BY THE NO.
ANOTHER HOLE AT THE 3 IS FOR WINDING THE QUARTER-HOUR WESTMINSTER AND WHITTINGTON CHIMES, HANDLED BY THE NO. A SMALLER HOLE BELOW THE HAND SHAFT IN THE MIDDLE OF THE DIAL IS FOR ACCESSING THE SLOW-FAST TIME ADJUSTMENT. A SLIDE LEVER ON THE SIDE OF THE CASE IS FOR CHIME-SILENT OPERATION. WHEN OPERATED, THE QUARTER HOUR CHIMES WILL BE SILENCED. A SECOND SLIDE LEVER ABOVE THE CHIME-SILENT LEVER ON THE SIDE ENABLES SELECTABLE SWITCHING BETWEEN THE WHITTINGTON OR WESTMINSTER CHIME SEQUENCES, SO THAT EITHER MELODY CAN BE PLAYED.
IN THE ALT SETTING THE SONORA 216 WILL ALTERNATE BETWEEN THE WESTMINSTER AND WITTINGTON MELODIES AT THE TOP OF EACH HOUR. IN THE CON SETTING THE SONORA 216 WILL SOUND THE CURRENT MELODY CONTINUOUSLY WITHOUT CHANGING. NOTE THAT THE ALT SETTING WILL OPERATE IN THAT MODE FOR SEVERAL DAYS BEFORE WINDING IS NEEDED.
IN THE CON SETTING THE MELODY WILL OPERATE FOR A FULL 8 DAY RUN. THE 89N MOVEMENT HANDLES THE TIME AND HOUR STRIKE FUNCTIONS AND THE 104 MOVEMENT HANDLES THE QUARTER HOUR FUNCTIONS. EACH QUARTER HOUR SEQUENCE IS SOUNDED ON THE DEEP TONED BELLS WITH RICH HARMONICS, TIMBRE AND LINGERING DECAY WHEN STRUCK. THE WHITTINGTON MELODY SEQUENCES ARE SOUNDED OUT USING ALL EIGHT SONORA BELLS, AND THE WESTMINSTER SEQUENCE IS SOUNDED OF FOUR OF THE BELLS. THE HOUR COUNT ON BOTH WHITTINGTON AND WESTMINSTER IS SOUNDED AS A FULL BODIED MUSICAL NOTE ON DEEP TONED BELL NUMBER 8.
PLEASE MAKE IT A POINT TO LISTEN AND CAREFULLY REVIEW THE ATTACHED SOUND FILES IN ORDER TO FULLY APPRECIATE WHAT OWNERS IN THE 1914 TIME FRAME APPRECIATED WITH THEIR NEW AND, AT THE TIME, VERY EXPENSIVE 8 BELL DEEP TONED BELL SONORA 216 CLOCKS. THE GRAND SONORA 216 IS 18 ½ INCHES HIGH AND PRESENTS ITSELF IN A MOST DRAMATIC WAY, SURELY TO INVIGORATE YOU EACH TIME YOU VIEW AND HEAR THE 216. 216 - 1914 WILL BE THE CENTER-PIECE OF A GRAND DECORATIVE SETTING, AND IT IS AN EXCELLENT INVESTMENT, BECAUSE ITS VALUE WILL CONTINUE TO APPRECIATE YEAR AFTER YEAR.
THIS IS A LARGE FULL SIZE CATHEDRAL SONORA CHIME CLOCK, SUITABLE FOR MANTLE, TABLE, OR SHELF DISPLAY. IDEAL FOR A MEMORABLE GIFT FOR SOMEONE SPECIAL. YOUR PERSONAL USE, OR AS AN ADDITION TO YOUR COLLECTION. MEASUREMENTS ARE 12 ½ W X 18 ½H X 9 ¼ D.
THE RESTORATION PROCESS INCLUDED COMPLETE DISASSEMBLY AND INSPECTION OF EVERY ASPECT OF THE CLOCK. THE SONORA CHIME BELLS AND CHIME BLOCK ASSEMBLY WERE CAREFULLY DISASSEMBLED, CLEANED TO RESTORE THE RESONANT TIMBRE OF THE SONORA BELLS, AND EXAMINED FOR CONDITION TO INSURE THE ABSENCE OF HAIRLINE CRACKS, ETC. SUPERSIZE PHOTO 8 SHOWS THE DISASSEMBLED, CLEANED AND INSPECTED BELLS AND BELL NEST WITH LARGE SOUND CAVITIES THAT CAN BE SEEN ON THE END. ALSO PICTURED IS THE REASSEMBLED NEST OF BELLS AND A SHOT OF THE SONORA BELL MEASUREMENT AS PREVIOUSLY MENTIONED.
CAREFUL INSPECTION OF THE BELLS IS EXTREMELY IMPORTANT. ONE HAIRLINE CRACK CAN CAUSE A SONORA BELL TO LOSE ALL TONE AND TIMBRE, AND THE BEGINNING OF A HAIRLINE WILL ALMOST ALWAYS GROW TO A FULL HAIRLINE CRACK. IN ADDITION, OTHER ISSUES WITH CRACKED, BROKEN, OR DETERIORATED WOODEN AND PRESSED FELT BELL SPACERS, USED TO SEPARATE THE BELLS, WILL IMPACT THE SOUND, YET CANNOT BE DETECTED BY CASUAL INSPECTION.
MOVEMENTS - #89N AND #104. BOTH THE 89N TIME AND HOUR STRIKE MOVEMENT, AND THE 104 CHIME MOVEMENT WERE DISASSEMBLED, CLEANED WITH ULTRASONICS, INSPECTED IN DETAIL FOR CONDITION OF THE PIVOT BUSHINGS, GEAR TRAIN, AND ARBOR OR PIVOT ABNORMALITIES. OUT OF TOLERANCE BUSHINGS WERE REPLACED. EVERY OPERATIONAL ASPECT OF EACH MOVEMENT WAS ADDRESSED. THE GREAT MAINSPRING IN THE 104 WAS REMOVED FROM ITS RETAINING BARREL, FULLY UNWOUND, PROPERLY CLEANED, INSPECTED, REWOUND, AND LUBRICATED WITH MAINSPRING INDUSTRUAL GRADE LUBRICANT. REPLACEMENT OF THE 136 INCH #104 MAINSPRING IS NEITHER RECOMMENDED NOR REQUIRED, AS LONG AS THE EXISTING MAINSPRING EXCEEDS SPECIFICATIONS, AS THIS ONE DOES. A NEW MANUFACTURE REPLACEMENT MAINSPRING TO FIT THE #104 HAS DIFFERENT STRENGTH AND TORQUE CHARACTERISTICS FROM THE ORIGINAL, AND MAY CREATE EXCESSIVE FORCES WITHIN THE MOVEMENT. THERE ARE SEVERAL IMPORTANT ITEMS OF THE #104 MOVEMENT. PAY SPECIAL NOTICE TO THESE THREE CRITICAL COMPONENTS: THE GREAT WHEEL GEAR, THE SECOND WHEEL GEAR WITH PINION, AND THE CHIME DRUM THAT SYNCHRONIZES AND DRIVES THE CHIME HAMMERS.
IF ANY OF THESE COMPONENTS IS ABOUT TO FAIL, IT MAY NOT BE OBVIOUS. WHEN IT OCCURS, THE COST TO REPAIR WILL GIVE YOU A JOLT, BECAUSE THERE ARE NONE IN SUPPLY CHANNELS; ANOTHER MOVEMENT WILL BE REQUIRED. THAT IS WHY I ALWAYS MAKE SURE THESE CRITICAL COMPONENTS ARE IN TOP CONDITION ON MY RESTORED SETH SONORA CLOCKS. JUST LISTEN TO THE ATTACHED SOUND FILES FOR AN ACCURATE RENDERING OF THE CLARITY, RESONANCE, TONE DEPTH AND RICH DECAY OF EACH NOTE STRUCK WHEN THE SONORA 216 CHIMES AND STRIKES THE HOUR.
AFTER REASSAMBLY, APPROPRIATE ADJUSTMENTS FOR TIME, CHIME, HOUR STRIKE, SYNCHRONIZATION, PENDULUM RATE AND BEAT ERROR ETC. WERE ACCOMPLISHED USING MECHANICAL AND ELECTRONIC MEANS. AN EXTENDED BENCH RUN TEST FOLLOWED. SEVERAL PHOTOS OF THE RESTORATION WORK ARE PART OF THE PORTFOLIO.
AS PART OF THE TESTS AND ADJUSTMENTS PROCEDURES ON THE #89N MOVEMENT, THE. ARE CHECKED AND SET - AN OBJECTIVE OF ZERO FOR BEAT ERROR IS DESIRED. THIS RESTORED 89N MOVEMENT ADJUSTED TO ZERO ERROR AND STABILIZED AT ZERO ERROR.
FOR PENDULUM BEAT RATE, THE 89N IS DESIGNED TO RUN AT 9,777 BEATS PER HOUR. THE RESTORED MOVEMENT EASILY HELD THE 9,777 BEAT RATE, MEANING THE TIME KEEPING WILL BE DEPENDABLE AND THE MOVEMENT WILL GIVE RELIABLE SERVICE. IN FACT, BOTH MOVEMENTS IN THE SONORA 216 WERE RESTORED TO SUPERIOR CONDITIION.
THE PENDULUM SWING ARC OF THE 89N MOVEMENT IS A FULL 3 1/2 INCHES, VERY ROBUST AND EXCEEDING ORIGINAL SPECIFICATIONS. A HEALTY PENDULUM SWING IS A POSITIVE INDICATOR OF A HEALTY MOVEMENT THAT HAS VERY LITTLE FRICTION AND LOTS OF ENERGY. BEWARE OF A #89N MOVEMENT WITH A PENDULUM AMPLITUDE OF 2 ½ INCHES OR LESS A SIGN OF POOR MOVEMENT HEALTH. IMPORTANT NOTE E COMMERCE AUDIO PLAYER SOUND FILE LINKS ARE ATTACHED AT THE BEGINNING OF THE LISTING.
SIX SOUND FILES OF THE SETH SONORA CHIME 216 - 1914 WITH #89N AND # 104 MOVEMENTS IN OPERATION ARE AVAILABLE IN. OPERATION SOUNDS, HIGHLY AMPLIFIED OF THE 89N FRONT MOVEMENT.
WHITTINGTON SEQUENCES AT 7:15 7:30 7:45 - LISTEN FOR PURE NOTES WITH GOOD TIMBRE, RICH DECAY AND ZESTY TEMPO OF THE MOVEMENT RATHER THAN A SLOW, SLUGGISH OR DRAGGING TEMPO. THE FULL 32 NOTE WHITTINGTON SEQUENCE AND HOUR COUNT AT 8:00.
AGAIN, LISTEN FOR PURE NOTES WITH GOOD TIMBRE AND RICH DECAY - AND AGAIN THE ZESTY TEMPO OF THE MOVEMENT RATHER THAN SLOW, SLUGGISH OR DRAGGING TEMPO. WESTMINSTER SEQUENCES AT 6:15 6:30 6:45 - LISTEN FOR PURE NOTES WITH GOOD TIMBRE, RICH DECAY AND ZESTY TEMPO OF THE MOVEMENT RATHER THAN A SLOW, SLUGGISH OR DRAGGING TEMPO.
THE FULL 16 NOTE WESTMINSTER SEQUENCE AND HOUR COUNT AT 7:00. IMPORTANT NOTE ABOUT SOUND RECORDING. THE MICROPHONE IS IN CLOSE PROXIMITY TO THE MOVEMENT FOR RECORDING PURPOSES, AND SOME NORMAL GEAR TRAIN OPERATION SOUNDS WILL BE HEARD. THE OPERATION SOUNDS ARE NOT NOTICED AT TYPICAL LISTENING DISTANCES. THE FILES ARE POSTED AS AN E COMMERCE PLAYER AT THE BEGINNING OF THIS LISTING. The item "VALUE PRICED RESTORED MAHOGANY SETH THOMAS 8 DEEP-TONED-BELLS SONORA 216-1914" is in sale since Sunday, September 19, 2021.
This item is in the category "Collectibles\Decorative Collectibles\Clocks\Desk, Mantel & Shelf Clocks". The seller is "distinctiveclocks_and_audio" and is located in Irmo, South Carolina. This item can be shipped to United States, Canada.
Chime Sequence: Westminster
Character: Clocking
Country/Region of Manufacture: United States
Type: Antique Bracket Clock
Antique: Yes
Year Manufactured: 2021
Brand: Seth Thomas Herschede New Haven Ansonia
Clock Type: Antique Clock